How to Increase App Downloads using Social Media
The social media importance have grown over the years. After Google latest updates about social media and it's importance in organic rankings, the social media channels gained more importance among marketers. The marketers started using social media channels not only for brand promotion but also from SEO perspective.
With the introduction of Google play and Apple store in 2008 the importance of social media networks got further boost. Until August 2014 there were 1.3+ million apps in Google play store and 40 billion applications were downloaded. Similarly, until June 2011 425000 apps were available in IOS,downloaded by 200 million users.
The number is growing fast and similarly the apps competition & it is becoming difficult to stand out among millions of other apps.
Here are some of the effective marketing steps one can follow for the promotion of App
Engaging Content
The first and foremost thing is to create engaging & high-quality content that can increase the visibility of your app.if you are promoting travel app then you should write engaging posts ex top 10 destinations of Europe, Tips, Offers or contests that can drive the engagement. Don't try to sell your app all the time. Help the community with content that provides education or solves problem.
Use of Video
The video content has gained popularity among the users. The video content is being shared more as compared to other kind of content.
The Google play stores allow you to add the video.This helps the user to understand why they need to download this app. The views you get on video through Google play store gets counted as views on Youtube.The higher the views the higher will be the video ranking in You tube search results.
Make a video that describes your app. It should be engaging. The video should influence the target audience and make them download. The Video should of atleast 15 to 30 sec. Take an example of Evernote https://www.youtube.com/user/EvernoteVideos/videos which created a bunch of videos for promoting its app. The video should be promoted on all social media channels.
Facebook
There are hundreds of millions of facebook users. It is highly recommended to create a page and promote the app. It is not advisable to directly promote the app on the facebook page. Your app should have a target audience. Let's take an example of "travelers" as a target audience. First, the page should talk about topics related to travelers in order to get the strategy work. Slowly build the traveler community .Once you have the active community then you can start providing information about the app.
Mobile App Install Ad

For using mobile app install ads,one needs to create an application on facebook . Once you are registered as facebook developer,you can register new application From http://developer.facebook.com. Then click on the Apps to go to application dashboard. Here you will see create new app blue button at the top. Fill your App Name and App Namespace.

Mobile App Basic Information
In App setting page fill your app information in the Basic section.If you have IOS app you need to fill in native IOS App basic section and for android app in "native Android App.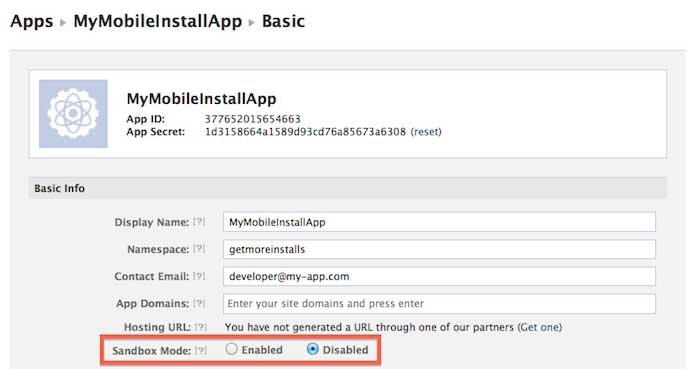 App Detail Page
In this, you need to fill information regarding your App ad.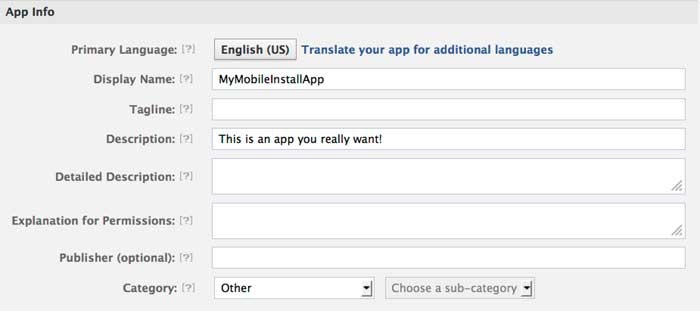 Build and launch AD
This is one of the most important and simple steps to launch facebook ad campaign. With the help of Facebook Ad manager tool or Power Editor, you can run the campaign successfully.
Twitter
More than 80% of Twitter user use Mobile and are looking for Apps to download. Daily thousands of millions of tweets are being tweeted,retweeted for various topics and interest. For many Twitter has become micro blogging tool and for others marketing channel.
Promotion through Influencer or Celebrity
This strategy works really well if you are looking to promote your product or services promoted. There are many companies which offer sponsored tweet services and will get your app promoted by influencer or celebrity.
Before picking up the celebrity you need to ask yourself certain questions
Type of smartphone used by a particular celebrity
Does he/she tweet about mobile apps
Do their followers retweet,mention or favorite their tweets?
Use of Hashtags
The use of hashtag can create a buzz about your mobile app. Even one can participate in a Hashtag that is already popular.
The introduction of App card by Twitter allows marketers to promote their app on Twitter. The App card allows users to view image,rating and install or open App directly from their timeline.
Instagram
There are millions of active users on Instagram and promoting app can certainly lead to success. The Instagram is all about High-quality images. The regular posting of high-quality images of App highlighting key features of App can really work. Also, the use of Hashtag can further increase the visibility of your pic.
For example, whenever someone does search in the Instagram and types his/her keyword in the search box that person will find all the relevant photos tagged with #hashtag for his/her searched keyword,thus increasing the visibility of the post.
The Timing of the posts is also important for promoting App. At the initial stage, it is always good to pick four different times and do A/B testing to find out the most active time. Some of the studies have shown that users are most active between 5.00 pm to 6.00 pm but it may vary.
Daily Posting Schedule – It is always good to form some sort of calendar for consistent posting. It is found that one – two post a day is recommended. Too much posting may end up losing followers, if your posts become boring.SO it is better to create a schedule. One can take help of free tools to set schedule
Iconosquare (formerly Statigram)
Simply Measured
Instafollow (iOS app)
The use of any one of the following platform will help you in analyzing your account progress month over month in terms of a following and user engagement.The data also helps you determine
The Most Engaging Content
Best Time of day to post
Posts disliked by followers.
Video Ads
The promotion of Apps through Video ads in Instagram can really create a buzz. One can use Facebook Video creatives on Instagram, if a Video is not more than 30 sec.Also one can directly download the app from Instagram through the install button without going tp Google play or Apple store.




Author Bio
I'm Simran an SEO consultant and marketing manager for SEO Professionals India. I've more than 5 years of experience as an SEO expert and have worked for many big brands.