SalesForce CRM Vs. Microsoft Dynamics CRM: Which One is Better?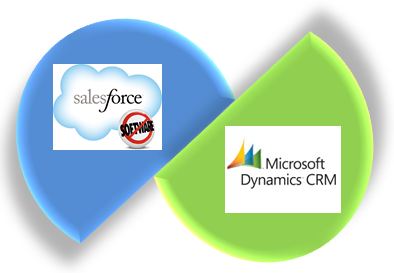 We are in the world where new technology always emerges, some get the limelight some goes without notice and some gets into the rivalries. From the beginning to end , every technology has some phase to go and the best one stays in the market.
So when any new technology or software comes into the market you choose that software only when the level of services provided by the new software overrides your existing software.  This same confliction to choose between best customer relationship management software can be applied to – Microsoft Dynamics CRM vs. Salesforce. The vendor and the customer have trouble differentiating the best CRM.
So, let have an in depth look at these two CRM , and then you only decide which one is better for your business need.
1. Systems
Salesforce's CRM services can be divided into several categories such as Data Cloud, Sales Cloud, Community Cloud, Service Cloud, Analytics Cloud, Marketing Cloud,App Cloud, and IoT.  It provides an interface for task management and case studies. It makes the important routine and event to get automated. It makes the customer to easily keep the track of cases, social media plug-in, event changes, etc through various analytic tools.
Microsoft Dynamics CRM is a server-client application which mainly focuses on Marketing, Sales and Services section. Microsoft Dynamics CRM is marketed as an XRM platform. This CRM encourages to use NET based framework to customize it.  It supports extensive web services interfaces
2.  Price:
Price for Salesforce CRM:
SalesforceIQ CRM Starter- Out-of-the-box CRM for up to 5 users – US$25 / user / month*
Lightning Professional- Complete CRM for any size team- US$75/ user / month*
Lightning Enterprise- Deeply customisable sales CRM for business- US$150/ user / month*
Lightning Unlimited- Unlimited CRM power and support- US$300/ user / month
Price for Microsoft Dynamics CRM:
There are various products offered from Microsoft Dynamics CRM. However, her only 4 products are listed.
Microsoft Dynamics CRM Online Basic- $30.00
Microsoft Dynamics Employee Self Service- $3.00
Microsoft Dynamics CRM Online Enterprise- $200.00
Microsoft Dynamics Marketing Enterprise- $125.00
3. Features
Both the CRM have their own set of features. Few features are common to both and few are unique. The feature importance depend upon the customer need
Salesforce CRM Features:
Salesforce CRM have following features:
Contact Management
Salesforce Engage
Sales Collaboration
Opportunity Management
Sales Performance Management
Lead Management
Partner Management
Accessible with Mobile
Ease Workflow and Approvals
Inside Sales Console
Email Integration
Files Sync and Share
Simple Reports and Dashboards
Sales Forecasting
Territory Management
Microsoft Dynamics CRM Features:
Microsoft Dynamics CRM have following features:
Better Collaboration with Office 365 Groups enhancements
Email signatures in web client email
Display multi-entity search results as a single list
Manage project-based sales
Project service automation: Project-based contracts, Project planning,Resource management, Time and expenses, and Project billing.
Self-service portals for an external non-CRM audience
Manage project-based sales with CRM project service
Manage field service workforce
Create SLAs for any custom entity and other system entities
Interactive service hub enhancements
Rich mobile experience
Enhanced Power BI integration
4. Consumer Reviews
If you consider few websites like softwareadvice.com, g2crowd.com, etc you will see Salesforce got more positive reviews compared to Microsoft Dynamic CRM. The reviews are personal opinion of user, however, it helps to have a first hand basic information. Still the decision is always yours and should be based upon your requirements.
Are they Similar?
At first definition both are CRM software, however just have different features. These two CRM can handle all of customer contracts, accounts, social media services, sales forecasting and much more. They have their own best marketplace and have the best usability in the industry. These CRM services are quickly adapted by many company due to their popularity and also due to ease of use.
Conclusion
To end this conflict of which one is better than the other we can say both have equal importance and customer choose as per their requirement.  Both CRM has unique services of their own and offer solution with modules and add-on feature from their stores. The decision is all upon your need and how much you are willing to spend on that CRM.




Author Bio:
Ruquiya Ansari holds a Master's degree in Information technology. She is awarded a gold medal for being the topper in B.Sc(IT) . She is working with a software company as a SEO specialist. In her free time, she enjoys writing articles on Social Media, SEO, Blogging, Internet Marketing and Business Technology . In her personal opinion she believes in hard work and pratice.