MilesWeb vs Hostgator – Head to Head Comparison of Their Shared Hosting
Researching options for hosting your website?
Picking a web hosting service that would be just right isn't as easy as it looks. There is an assortment of hosting services to choose from: shared hosting, VPS hosting, cloud hosting, dedicated hosting, best hosting for wordpress India and the list goes on. It all comes down to the kind of site you wish to host. The option that many people go with is shared hosting.
A shared hosting service is the most basic and cheapest web hosting service available. Shared hosting means hosting a website on a server's block and sharing the server resources with many other websites. The server resources shared among the sites reduce the overall cost of hosting.
Why is shared hosting popular among beginners?
It is cheap.
It provides enough resources for starting a site.
Ideal for small businesses.
These are the attributes of a basic shared hosting plan. Shared hosting is the most commonly offered hosting service by almost all hosting providers. The fun begins, when you have to choose between the service providers. There are too many web hosting companies that provide shared hosting in the market, but only a few stand out from the rest.
GoDaddy, BigRock, Hostinger, HostGator, Milesweb, HostPapa, A2 Hosting, GreenGeeks, Bluehost, etc. have some of the best hosting plans to offer. However, choosing among them can get tricky as there is a difference in opinion among their users. To make a truly informed decision, you have to know the features each of them offers and pick one that is most suited to you.
I have narrowed it down to MilesWeb and HostGator as they both have highly competitive pricing and features to offer with their shared hosting plans.
MilesWeb
MilesWeb is an international web hosting company that provides web hosting in various countries like the USA, UK, India and many others. Established in 2012, MilesWeb offers a broad range of hosting and relevant services. MilesWeb has evolved into a leading web hosting service provider that is highly acclaimed. MilesWeb provides fast, reliable and cost-effective cheapest shared hosting India solutions designed for both young and veteran businesses.
HostGator
HostGator is an American web hosting company that provides web hosting services worldwide. HostGator has been around since 2002 and has come a long way as a web hosting company with many international offices. HostGator has received great reviews from clients and experts stating its reliability as a web hosting service provider.
As you can see, both are trusted and highly recommended web hosting service providers. Both have been in the business for quite some time now. Both give features like free SSL Certification, Built-in Page Caching and Free Website Migration.
MilesWeb vs. HostGator – What's Different Between Them?
Let's make a parallel comparison between the two based on some parameters.
Price
The highlight of a shared web hosting service is its low price. Web hosting companies focus on keeping shared hosting at a low price as customers prefer cheaper plans that make effective cost-cutting.
The shared hosting plans at MilesWeb start at ₹40 per month. Their recommended bestseller Turbo plan ₹170 per month.
The shared hosting plans at HostGator start at ₹149 per month. Their recommended Business plan has a price tag of ₹399 per month.
Email Accounts
The basic shared hosting plan of MilesWeb provides up to 10 email accounts for the domain.
The basic plan of HostGator allows 5 email accounts.
Other shared hosting packages offered by both come with unlimited email accounts.
Technical Specifications
Bandwidth
The amount of data that can be uploaded or downloaded on a site is called bandwidth.
All the shared hosting plans of MilesWeb provide unlimited bandwidth. So, there is virtually no limit to the amount of data that may consist of images, videos, etc. you can exchange through your website.
The basic shared hosting plan of HostGator has a 100GB limit on bandwidth, i.e., it allows the data transfer limited up to a 100GB only. The rest of the plans have no limit on bandwidth.
SSD Disk
SSD disks provide high performance in caching, data efficiency and fast hosting speeds. It hosts the software applications and plugins that are supporting the website.
The basic shared hosting plan of MilesWeb provides a 1 GB SSD disk.
The basic shared hosting plan of HostGator provides a 10 GB SSD disk.
Other shared hosting packages offered by both MilesWeb and HostGator provide unlimited SSD space.
Databases
A database is a memory block that stores and manages data on a website. It handles the uploading, downloading and other operational functions on the online data.
The basic shared hosting plan of MilesWeb provides 3 databases. The rest of the hosting plans provide unlimited SSD space.
The basic shared hosting plan of HostGator provides unlimited databases.
Unlimited Databases give uncapped data storage volume for the online database of your site.
Customer Support
MilesWeb gives 24/7 chat support all year round. Meaning, there is an all-time availability of customer service irrespective of day or time.
HostGator provides customer support too but has an issue of availability. You can schedule a call back in case you are not able to reach them.
Differences in the Best Shared Plan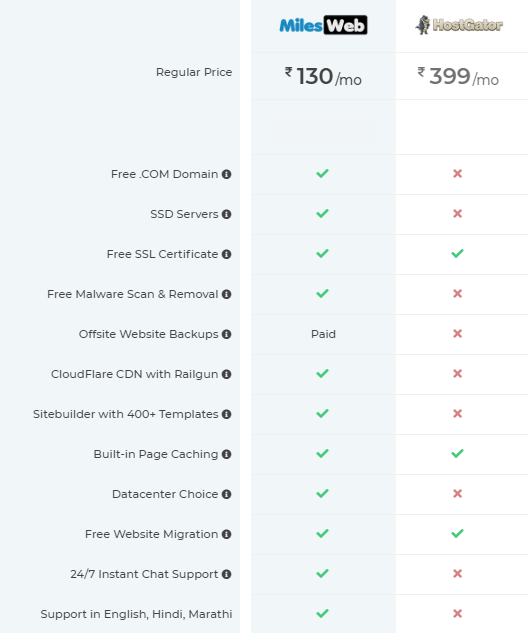 Verdict
You may hear a lot of mixed opinions between MilesWeb and HostGator. Both are reliable hosting providers and are popular in the industry.
The comparison between their shared web hosting draws a clear picture. The shared plan and customer service of MilesWeb gives a better web hosting experience to beginners. You enjoy more perks with MilesWeb than HostGator.
MilesWeb has designed its basic shared hosting plan for supporting a simple website with regular traffic and kept the cost to a bare minimum.
So, if you are starting a website for the first time, I think MilesWeb shared hosting would be a good first choice.