MilesWeb Review – Dedicated Servers for Heavy Websites
If your company's website is rapidly getting heavy traffic, you should consider moving to dedicated hosting.
The progress and speed of your website are determined by the hosting you use. If your website receives a lot of traffic but is too slow, you'll need to upgrade your hosting. Business websites need far too much work. They can't afford even a minor server outage because it will affect their sales.
Dedicated hosting is a type of web hosting that can help your company's website grow better. It has the capability and power to improve efficiency. With cheap dedicated server hosting, you can improve the speed, smoothness, and security of your website.
Many high-traffic websites are prone to security. An ineffective hosting service could be one of the reasons. In fact, a low-quality hosting company could also be a contributing factor.
Dedicated hosting is the best option if you don't want your company's growth to stop in any way.
Moreover, hosting on a dedicated server has numerous advantages. It allows the website to run hassle-free even when there are a lot of heavy web applications and traffic. This way, your website will be able to provide a better user experience, leading to more sales.
If you have an eCommerce site, a dedicated server will help you run it fast and smoothly. There will be no concerns with loading times for your traffic. Plus, the server will always assist you in dealing with high traffic loads.
Dedicated hosting is an expensive investment, but it will pay off in the long run. Several web hosting businesses provide reasonably priced dedicated servers. Quality, on the other hand, is always a risk. In that instance, MilesWeb takes into account both quality and affordability.
MilesWeb is a low-cost website hosting service. They are the most well-known cheap web hosting companies and the best when it comes to hosting services in India or anyplace else in the world.
They have aimed to provide low-cost hosting services since the beginning. This allows them to serve all users, including those who cannot afford expensive hosting. So, if you're on a tight budget, MilesWeb's dedicated hosting will satisfy you.
What is Dedicated Server Hosting, and How Will It Work?
Dedicated servers are hosting services that allow you to have complete ownership of a server.
Yes! Yes, you read that correctly. Dedicated hosting lets you have the entire server to yourself. You don't even provide a portion of it to other users. Every bit of RAM, as well as the CPU, is yours.
True that VPS offers 100% dedicated resources, but the server is virtual. You will be placed in a virtually isolated setting. Dedicated hosting, on the other hand, gives you a fully committed physical environment.
A virtual private server (VPS) is similar to a dedicated server, but it cannot match the entire big machine. Dedicated server hosting is the way to go if you want to enjoy greater and longer business growth. It has much more to offer.
You wouldn't want to be targeted by scammers as a big website owner. This is usual for such sites. So, in that case, a superior hosting solution can eliminate this issue.
Attackers can catch a large number of websites that use poor hosting options. They lose all of their hard work and databases that contributed to their success.
As a result, switching is essential after your website has grown in size and is experiencing performance issues.
Dedicated hosting is ideal for high-traffic websites and online retailers. They are the ones who need it the most because they have a constant stream of traffic. Plus, every website demands high speed and performance.
MilesWeb Dedicated Hosting Plans
MilesWeb offers a variety of dedicated hosting solutions. They range in price from Rs. 6,999 per month to Rs. 46,999 per month. Any pack you choose will provide you with 100% resources. Plus, resources are expandable.
You can reach out to the sales team if you require further resources. They will assist you and can even create a custom dedicated hosting package for you. If your needs are different from available plans, they will be happy to make your custom plans.
Users who require help managing their bare metal servers can go for managed dedicated hosting service. In that situation, MilesWeb's team will be available 24/7. You can reach out to them at any moment via live chat or email tickets, and they will be happy to assist you.
You also gain complete root access.
MilesWeb gives you complete customization and setup control. You can install heavy web applications and operate smoothly on your bare metal server.
Features
High Network Uptime
MilesWeb has a feature called SLA (Service Level Agreement). They offer a 99.99% guaranteed uptime to their users. This will allow your website to be up and run at all times.
High Performance
You can enjoy an unrivalled performance and a lightning-fast website. There will be no downtime or concerns with the bounce rate.
High Safety
Dedicated hosting offers great security because resources and server space are not shared. Moreover, it protects your server from malicious activity.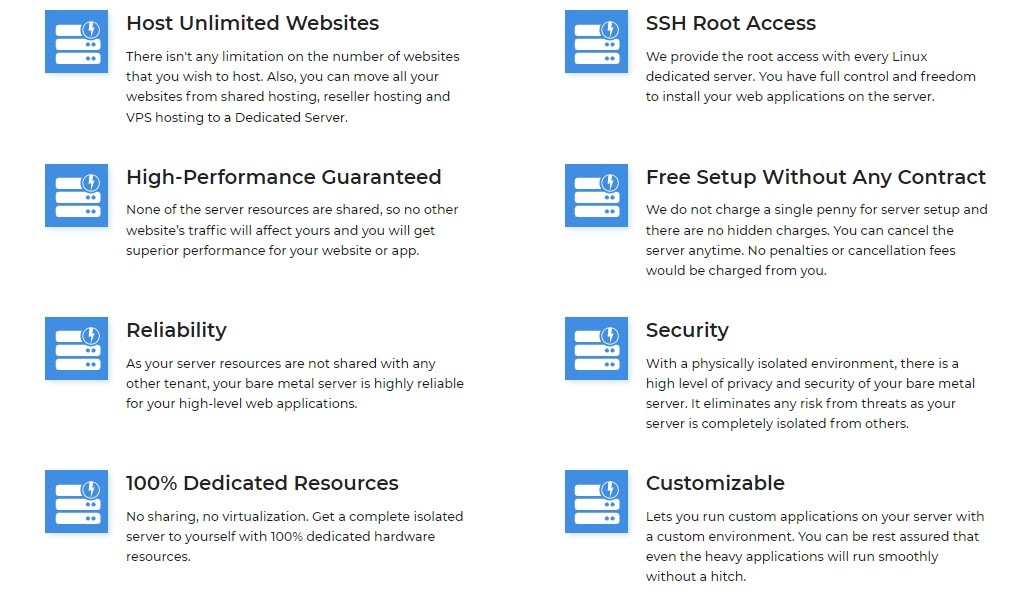 Conclusion
It doesn't matter where does your business website stand right now. The dedicated hosting will only help you get better. It will contribute to a better expansion so you can improve your wealth. Plus, with MilesWeb dedicated server hosting, you will benefit from tons of features.