How To Calculate Your Digital Marketing Budget
In this article, we will discuss how to calculate your online marketing budget. In a contemporary world, it doesn't matter whether you are a startup or a conglomerate, your online presence represents your brand identity. Now it's not about how you invest, it's about where you invest. You should know which marketing channel is best for you, which channel will give you the best ROI and then make decisions based on it. If you don't know how much to invest on what channel then you are sailing blind, which is derange.
If your marketing strategy is not quantified properly, then chances are there that you will end up spending more than what you should or will fail to invest enough to reach the right audience. Either way, your ignorance will lead to poor market performance.
There are 3 goals that a company wish to achieve through online marketing
Increase online sales
Increase lead conversion
Brand awareness
You should decide what your final objective is, and then based on the objective your marketing strategies have to be tweaked and budget should be allocated.
#1 Calculate Marketing Budget for PPC
Pay Per Click, as it sounds is the concept. You pay the search engine when someone clicks on the sponsored ad in SERP. Through PPC you can drive instant traffic to your website and the results are instantaneous.
For eg: If your goal is to get to get make an ROI of 5,000 dollars per month. Lets see how you could generate that much money using PPC.
Assumptions:
You own a flower shop, and the average price per flower is $20;
You have a good quality score;
Your paid ad will be shown 500 times a day, with a CTR of 10%;
The conversion rate is 5%;
The bid amount is $0.5 per click.
Now let's see how you can calculate the budget
So per day your ad will be shown 500 times with a CTR of 10%, ie = 50
Since 50 people clicked on the paid ad the search engine will charge you $25 per day. (your CPC is $0.5)
The conversion rate is 5%, so on an average per day 2.5 people will buy flowers from you
Therefore the total revenue that you make in a day = 2.5 x 20 = $50
Total revenue for a month = 50 x 30 = $1500
So in order to make $5000, you need to invest $2500
#2 Calculate Budget for Content Marketing
Content marketing is the most effective way to drive organic traffic to your website. A high quality has the intrinsic quality to attract customers. Stats published on Dragon Research marketing says that custom content influences 61% of consumers buying decision. A custom content helps to divide complex topics into simpler chunks focused for a particular audience. This is one marketing channel where you can invest your own time and try optimize the articles in order to rank in SERP.
Let's consider that you are creating content of your own. Wondering why not outsource – Google has clearly mentioned that if you need to rank on SERP then the only option is to produce high quality content that will add value to the target audience. If you are planning to hire a content writer, make sure that he knows the importance of content. Never encourage you to fall into the pitfall of plagiarizing content.
Content creation – If you are hiring someone to do the job for you, then you will be paying him/ her a monthly salary that scales from min $1000.
Image creation – This you can create on your own, If not either you can buy images from stock photographies or you can try to source images from online marketplaces like Fiverr. In Fiverr the price will be around $1 – $10 based on the vendor you select.
Video – Here you need to invest on both video capturing tools as well as video editing tools. You need to buy a reasonably good screen capturing tool as well as a video recorder. The screen capturing tools will help you to record online interviews (Snagit is one good tool which will cost you $49). Offline cameras are a bit costly, You can also manage live video recording using a mobile with high resolution/ pixel rate.
On page optimization tool – You need to invest in tools like SEO Profiler ($49), RankActive ($30), etc.
#3 Mobile App Marketing Budget
Before you dive into calculating the marketing budget for a mobile app, let me take you through the concept of implementing MVP. The minimum Viable product, with this concept you will be able to test your product before it hits the market. The main reason why you should do this is because it helps you to know what the market expects you to come up with than thinking what the market needs. Entering into a market with features that don't have any demand is the last thing on your bucket list. Take reviews and feedback from early adopters.
Once your decide that your app is ready to hit the market, look for opportunities that can be monetized and also finalize the CPI (Cost Per Install). Cost per install is simple to calculate. If you need to get 1000 installs per week, then multiply 1000 with the cost per install. Considering a cost per install of 0.25, average money spent per week will be $250. So for one month, the total investment will be $1000.
To conclude: Being a business it's important to calculate online marketing budget. Scheduling your budget helps you to be on track and invest your scarce resources more effectively.
About the Author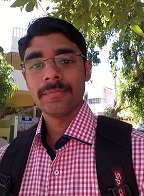 Name: Nishant Maliakel Oommen
Author Bio: Nishant is a candid person with fondness for digital marketing. Inbound marketing is one of Nishant's forte. Nishant is currently working as an Online Marketer in Kamkash – Digital Marketing Agency in Bangalore.
LinkedIn: https://in.linkedin.com/in/nishantmaliakeloommen
Facebook: https://www.facebook.com/nishantmaliakeloommen
Twitter: https://twitter.com/nishantoommen