5 Obstacles to Writing Great Blog Posts Regularly and How to Overcome Them
I'm sure that you, as a blogger, asked yourself the following question:
"How often should I write blog posts?"
There is no 100% right answer to this question on the Internet. Some bloggers tend not to write very often (they publish one article per month). The others prefer to publish some fresh content a few times a week. And they all say that their tactics works and brings them great results. Who is right?
Let me put some clarity into it. Again, there are two approaches that different bloggers and marketers use:
SEO oriented approach: to make your outstanding content rank in Google (in this case some bloggers even remove better articles just to make it friendly to Google)
Audience oriented approach: to please your followers and subscribers with great content from you.
Here is a dilemma – what kind of approach is better to use?
Don't forget that you have to write guest posts to earn backlinks and spread the word about you as a blogger or as an expert in your niche. That's where regular writing is crucial.
But, damn, it's so hard to write great posts often. Sometimes it's even a challenge to write one post per week, because writing is not the only thing in your life, right?
Besides there's always something, that stands in your way:
lack of new cool ideas
lack of time
lack of confidence (not being an expert in what you're writing about)
lack of organization and (or) motivation
etc
Let me show you how to deal with these obstacles and write great blog posts regularly and with hardly any trouble at all.
I. How to Come up with Fresh Ideas for Your Blog Posts
Human brain gets tired of constant work, especially when it has to produce new, fresh and outstanding content. You start asking yourself evident questions:
"What people want to read about?"
"Where I can find new ideas that worth spreading?"
Don't panic – it is the first rule of a successful writer!
There are a few tricks that will help you get new ideas. Let's consider them one by one:
Use skyscraper technique by Brian Dean
This is an excellent opportunity for you to create a fresh article breathing a new life into the old piece of content.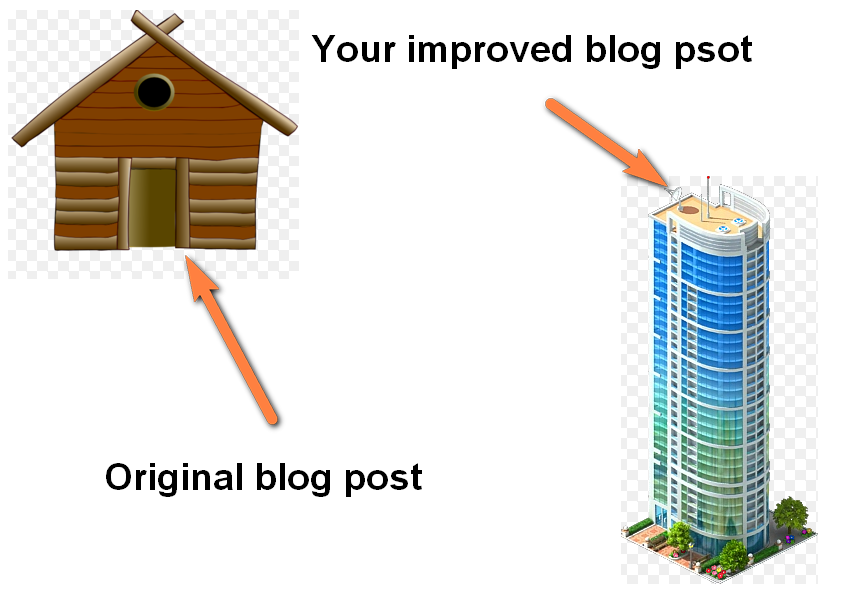 What you will have to do:
Find an article that generates tons of shares, comments and backlinks
Make the article you've found better (add some new ideas or/and improve the old ones)
In addition, after publishing, you can reach out to those who enjoyed the original article and offer them to check out yours.
This is it. You can be sure – this tactics really works (thanks to Brian Dean).
Use Ahrefs Content Explorer
The next trick is to use Ahrefs Content Explorer. Everything that you need is to insert a keyword related to your niche into search box and see what topics work best on the Internet. Let's have a look: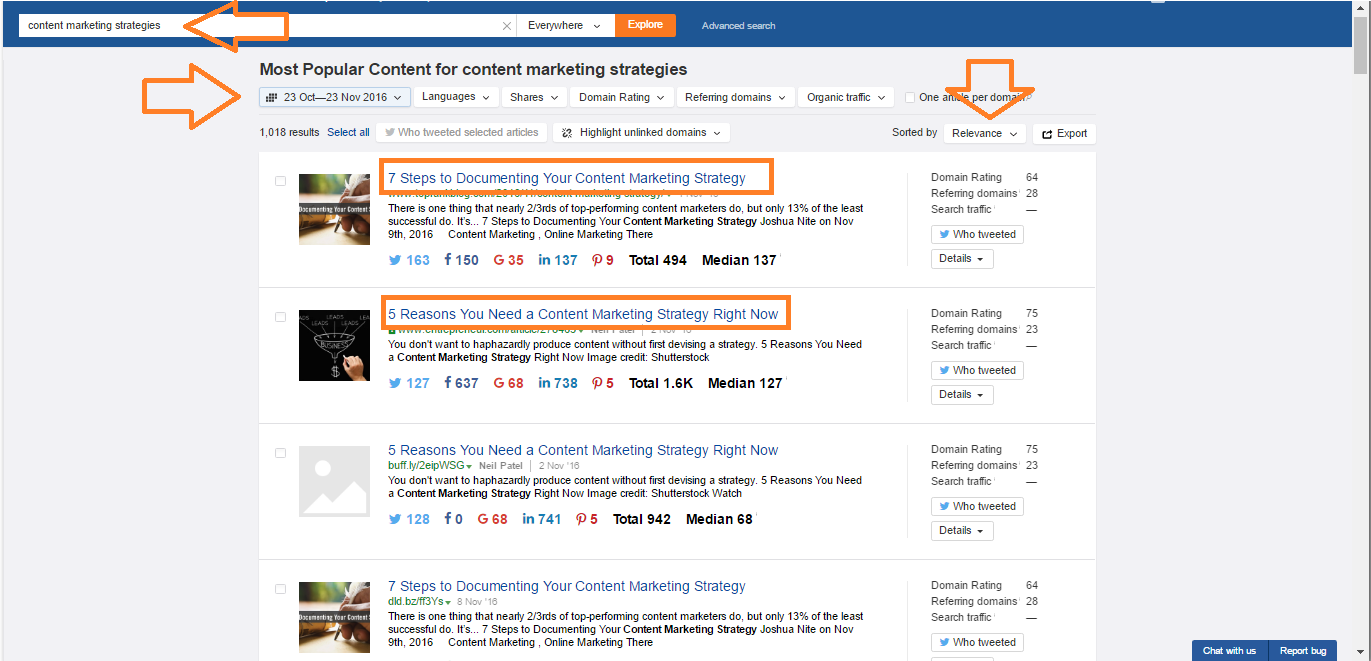 As you can see, Content Explorer suggests you a list of topics that are relevant to 'content marketing strategies' keyword. You can filter the results by:
Relevance
Referring domains
Search traffic
Domain rating
Date (newest/oldest first)
Number of different social shares
Thus, if you focus on Facebook shares – you can change the filter and see what topics ring the bell with Facebook.
Afterwards, your purpose is to write something engaging on a similar topic. For instance, here you can write a new piece of content about content marketing strategies, such as:
"10 outstanding content marketing strategies in the expiring 2016 year"
"5 reasons why your content marketing strategy doesn't work"
"Content marketing strategies in 2017: ways to improve your business"
Well, you got a clue how to find ideas with Ahrefs Content Explorer tool.
Check what answers people need on Quora
Quora is simply a 'question-answer' platform where people from different niches ask various questions and get answers. It is pretty convenient for you to find some new ideas for the article. Let's see: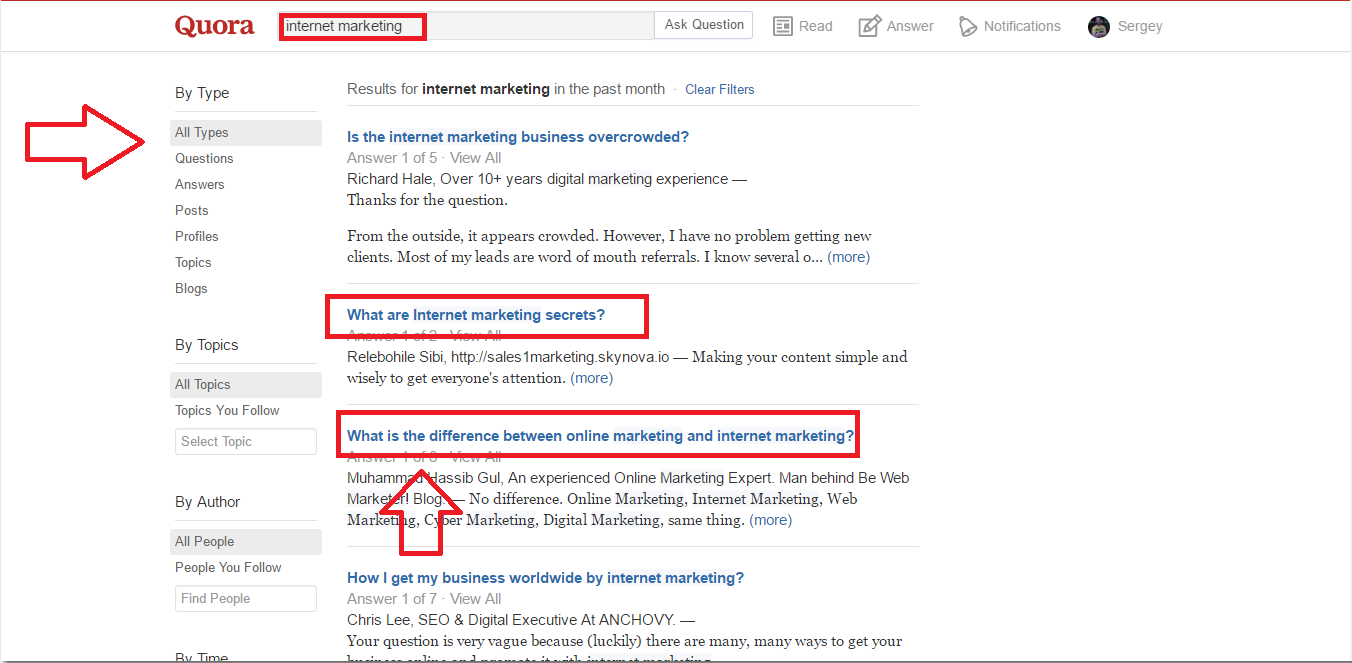 You make a request putting a keyword in a search box. Then, Quora provides you with the list of questions people ask. Moreover, you can filter your request according to your preferences:
Questions
Answers
Topics
Posts
Profiles
Blogs
These questions (answers) you can use as topics for your article. In the screenshot above you can see an example of ideas related to the inquiry 'internet marketing.' The questions "What are the Internet marketing secrets?" or "What is the difference between online marketing and internet marketing?" are a great opportunity for you to write two cool articles on these topics .
Quora is a great opportunity for you to get fresh and highly much-in-demand ideas 🙂
II. How to Overcome a Writer's Block
Sometimes writers (bloggers included) face a problem when they just can't write anymore. There are various reasons why it happens. But one thing is clear – there is no blogger in the world who has never had to overcome a writer's block.
From my perspective these reasons are:
Lack or absence of confidence: you are not self-confident and you think you are unable to write useful content for people in your niche.
Lack of time: you think you will not have enough time to write an article; while you're thinking so, time is really slipping through your fingers.
Lack of self-organization: you are a person who can't keep to schedule (wake up when the bell rings, put aside everything except your working on article etc.)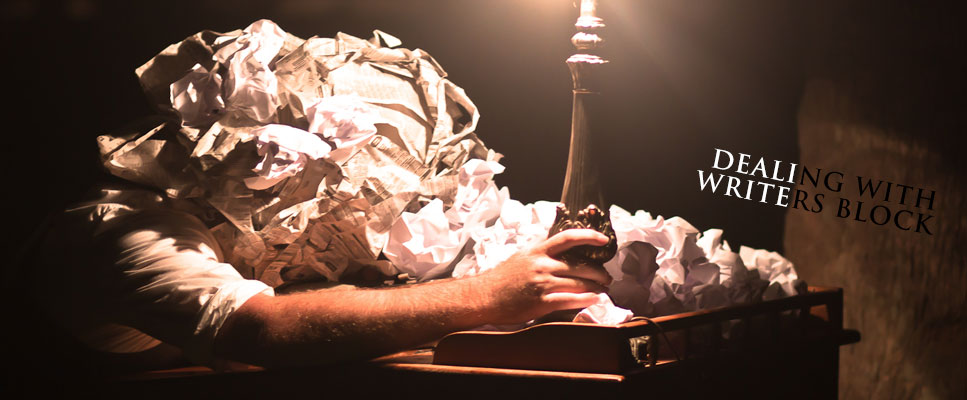 I can continue the list of reasons but I am sure you understand what I'm talking about. The question is – how to avoid these problems.
Start with the most important element – your day schedule.
Organize your daily schedule
Let's say you have 3 days to write an article. The first step is to decide how many hours you are going to spend each day for writing. Let's say you work 8 hours a day (including a lunch break). Thus, it is far better to start your working day early in the morning.
Some writers suggest to start writing on empty stomach right after morning exercises. I personally disagree with this statement. How can I think about work if my stomach is empty?! Eventually, the only need that I will think about is my breakfast (and a solid one).
By the way, I completely agree that each morning you should start with physical exercises. No need to do a huge set of various exercises. Just a few warming up exercises, a contrast shower and that's all:)
Remember – any physical activity will wake you up even if it was a way hard for you to leave a bad.
Afterwards you should decide for yourself how many hours you are going to work before the first break. I believe it is normal to make a short pause in you work after 2 hours of work (I mean 2 hours of sitting in front of the screen of your laptop). This pause must be at least 20 minutes.
I do 2-3 breaks during my work (apart from my lunch break) and it helps me to relax a bit. It is important to do some gymnastic exercises for your spine (you know writers spend most of time sitting). Moreover, it would be great if you could switch your attention to something opposite to your work. It could be music, nature or simply communication with your relatives (friends).
When your working day comes to end, I suggest you to have a walk in the street or visit a sport club.
There is nothing better than working with your muscles after working with you brain:)
Oh, yes, you should forget about any procrastination of your work. Do you remember this proverb: "never put off till tomorrow what you can do today"? It is to the point!
Use Pomodoro technique
Pomodoro technique is a simple and effective way to improve your work. The main aspect of this technique is to force yourself to work 25 minutes without any distractions.

Actually, this technique includes 6 basic objectives:
Find the topic for your future article and identify of how many 'pomodores' (each 25 minutes) you need to accomplish your writing.
Learn to protect your 'pomodoro' from internal and external interruptions (no phone chatting, no watching videos on Youtube etc.)
Work on your writing until 25 minutes pass.
Your first 'pomodoro' has been completed (now you can review you work)
Take a break for 15 minutes (you can do whatever you want; drink a cup of coffee, go for a walk etc.)
After four-part set take a longer break (30 minutes)
Afterwards you will see the result. Your writing will become much better and you won't get tired at all.
Get some tools to help you plan your day
When you have to do lots of different things during the week, you might forget about something. I am not surprised with this because we are humans but not machines. You can do some notes on a sheet of paper but it can be lost. Thus, there are a few tools that will help you to create a week plan:
WeekPlan helps you focus on most important thing you will have to do during the week. The tool is easy and intuitive; you set your goals according to the significance they have. In your case, you can put writing on top above everything:)
Remember The Milk is another one 'ToDo list' tool for planning your week. According to its slogan "Never forget the milk (or anything else) again", it helps you to organize your week without missing anything you need to do. It is convenient and easy in use; it suggests you a few specific columns that might be filled up with your tasks.
Wunderlist is a free application for iPhone, iPad, Android and other devices you use. The application helps you create different lists for different things you need to do. Basically, Wunderlist provides you with the same functions as other 'ToDo list' tools; however, it has its own specific features:
It allows you to print your list if even you can't login to your device
It allows you to repeat your task (subtask), notes and share it with other people
I am sure these pieces of advice will help you to overcome writer's block and accomplish your work in time:)
III. How to Save Time Editing and Proofreading
When you finish with writing your piece of content, it doesn't mean that you've done with work. The article needs your final touch. I'm talking about proofreading.
Proofreading takes lot of time and forces. You have to be very attentive to identify all grammar and lexical mistakes you might make during the writing. What should you do in this case?
I strongly recommend you to ask for assistance some professional editor. Especially, if you are not an English-speaker!
If editor's services are out of your budget, you can use specific tools online:
Grammarly is a writing app developed by some of the world's leading linguists. It helps you find and fix grammar, spelling, and punctuation errors wherever you write. In contrast to other spelling and grammar checkers, Grammarly can catch various errors. Moreover, this app helps you refine word choice and style, making your writing clear and compelling all the time. The main reason why you should use this tool – it is free.
Hemingway Editor makes your writing bold and clear. The main purpose of this service is to make your content easy to read. It allows you to write out your text or paste content you have already written. The app marks words, sentences or paragraphs with five following colors
Yellow (shows sentences are hard to read)
Red (shows sentences are very hard to read)
Purple (shows phrases, which might be changed with simple alternatives)
Blue (shows adverbs you should delete)
Green (shows passive voice you should avoid)
Nevertheless, it may make suggestions you won't agree with (marks the sentence that is hard to read when you think it has a normal structure). Anyway, if you want write as clear as Ernest Hemingway, you should use this app;)
Another tool for checking your writing is called Polish My Writing. It works easy – just paste your content and click 'check writing'. The tool underlines all errors with the specific color:
Spelling errors with red
Grammar suggestions with green
Style suggestions with blue
Then click on your error and the service suggests you alternatives for fixing the error.
These tools will help you improve your writing.
IV. How to Fight Lack of Confidence
How do you think, why popular bloggers are, actually, so popular?
This trivial question has one simple answer – because they've overcome their fears. Fears and absence of confidence.
Every successful blogger was an ordinary man who tried to write something interesting for the sake of people. You tried (and still try) to bring value with the help of your articles. I am sure when you were writing your first article you didn't think about Google, SEO and other related stuff. You willed to share your thoughts with your readers, that's all. You had nothing to lose.
While now you earn money writing articles for blogs. In this case you think about such things as:
Is my article worth being published on this awesome blog?
Will my article impress this famous blogger?
Will I make a fool of myself offering my article?
Etc.
These questions are doubts and fears you must overcome!
I can suggest you a few things I personally do:
Try to bring a confidence in every aspect of your life (sports, martial arts, extreme helps a lot to make yourself confident)
Be polite and decent in conversation (if some blogger refuses you in publication, your politeness will force him to respect you; as result, he will back to you with some big deal)
Try to communicate with various types of people (don't restrict yourself with a particular circle of people; representatives of different social groups can provide you with a valuable information you may use in your work)
Stand by your words and actions (you know what I mean)
Following these simple rules you will become a self-confident person…and success will not be long in coming:)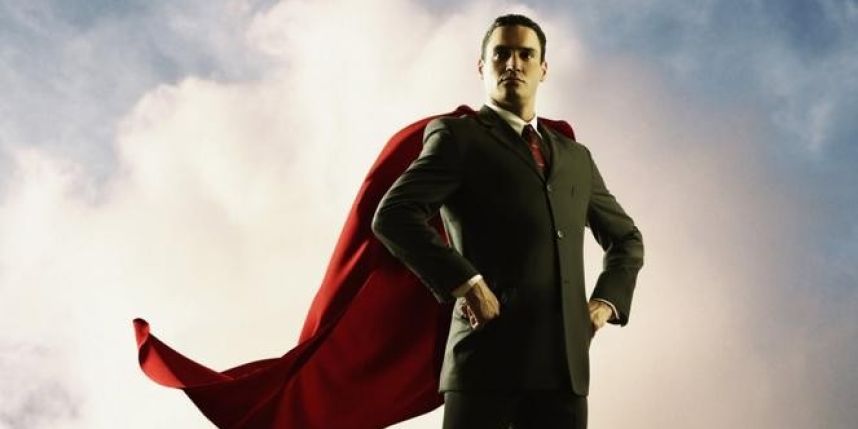 V. Energy You Will Need
It goes without saying that writing is a monotonous process and you will need to change your activity. Endless sitting in front of laptop's screen has a negative effect on your health: problems with your spine, interference with blood flow, psychological disorder etc.
Your work is important but your health is above all things.
I highly recommend you to attend sports club. Nobody says about being a professional sportsman but your body needs physical exercises right after sitting work. As alternative, you can simply go jogging outdoors in the evenings (as like I do) or go for a stroll. Of course if you don't have any medical contraindications.
Don't forget about eating healthy food. Forget about fast food – yes, it is tasty but it is not safe for your health.
Leisure is an important element as well. If you don't stop thinking about your article at the end of working day, your brain won't have a rest. Instead you should listen to music, watch some movie or do whatever makes you happy. For instance, if you can play some musical instrument, thus it would be better to practice your playing.
If you don't make up for the loss of energy, you won't be able to write more productively.
Conclusion
To conclude I want to say – you are not alone 'in the world of writers'. Every blogger faces obstacles, that have been covered in this article. Every writer has his or her own way to get over the difficulties. But the truth is one – you are able to overcome writer's block, find fresh ideas and yet not work fingers to the bone. If you need kick-ass tips for writing professional blog posts, check out the article in the provided link!
Reading these words your self-confidence is rising, don't you feel that?I am sure you do!
Good luck with writing!
Please, share and comment. Be social 🙂
Author Bio: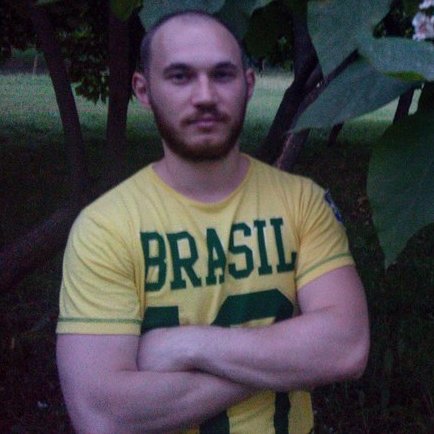 Sergey Aliokhin is an Outreach manager at Ahrefs. He spends most of the time discovering and learning SEO and Internet Marketing tendencies. His primal goal is to study and practise new aspects of outreach strategy. In his spare time he likes to spend his time with family, visit specialized sports club, study martial arts. If he has nothing to do at all, he prefers reading books on science-fiction and playing the bass-guitar.
Twitter: @sergey_aliokhin