Email campaigns : SendPulse
Email is one of the most effective and profitable methods of product promotion on the Internet, besides, it is useful not only while selling goods but while getting feedback from the consumers as well. Marketers are to do their best while creating the content and the email subject not to make their subscriber click on «Spam» or «Unsubscribe». Needless to say, how interesting your style of writing should be for a person to get your message. You can come across a wide choice of email services today, the most popular are MailChimp, UniSender, Mailigen, MadMimi, DirectIQ, SendPulse.
SendPulse is an integrated messaging platform that offers bulk email, sms and browser push notifications. You can use those 3 channels of communication together, combine them within your communication campaign. This feature lets maximize your subscribers' reach and engagement. Very few companies can offer it.
Furthermore, SendPulse introduced Artificial Intelligence to increase the email open rate and get a better response on your newsletters. This feature makes possible sending the email at the best time for the recipient since they are based on subscribers' data and their behavior is taken into account.
Service is pretty simple in usage and suitable for small and medium businesses and entrepreneurs due to the following features:
Automated email series are available;
Email scheduler that makes it possible to send emails when they are created, or they can be scheduled for automatic sending on a certain date or time;
Responsive emails, which are easy to read on different devices;
A great variety of email templates;
Personalization, smart personalization and segmentation are available;
You can carry out A/B testing to optimize your email campaigns;
A convenient editor allows you to quickly and easily create professional-looking templates for your emails.
You can track the stats of your campaigns and analytics according to several criteria;
Free plans are available, web push notifications are free forever;
White label lets you send out mailings without any mention of our service or company, neither in the email header nor the email body;
Appealing referral program;
24-hour technical support.
SendPulse gives excellent opportunities to raise your email open rates, click-throughs and conversions.
Almost every email marketing service can offer you personalized emails, but it can happen, that you don't have enough personal information for it. SendPulse has smart personalization, with the help of which you can easily create a template that is tailored for each recipient, and it works with macros. If you have an address book containing additional details concerning your recipients, you can send different e-mails within a single mailing. Everything depends on the specified details in variables. Conditions are stated in the following way: if the value of a variable is void/equal/not-equal, etc., then Text 1 is sent out, and in all other cases Text 2 is sent out instead.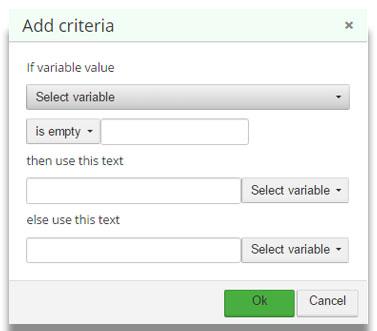 Segmentation. Segment your customer base according to their gender, place of residence, interests, preferences. You can set up just one address book, fill it with e-mail addresses, and then distinguish different segments. The more information you gather about your subscribers, the more detailed your segmentation will be.
Use AI to improve the results of your email campaigns. For this purpose, choose the option "Send at the best time for each subscriber".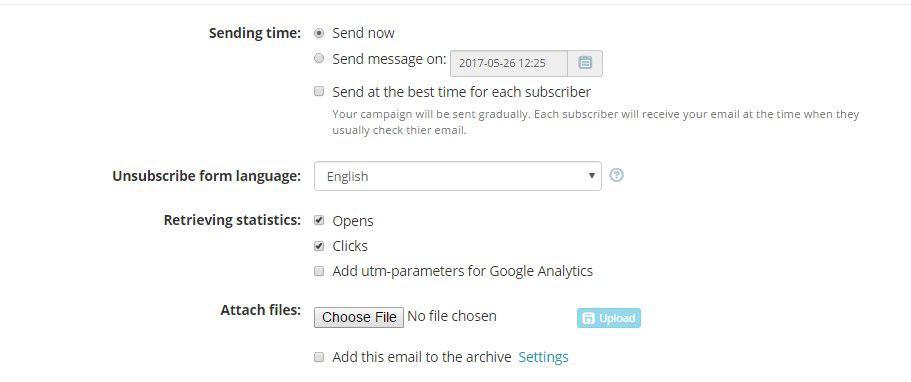 Check out how easy you can create an email campaign.
On your dashboard choose «Create a campaign». After that, select a mailing list, enter your email address, name and subject line. Make sure, that your subject line is attractive, eye-catching and will make a recipient open an email.

Then, select template layout structure. Here several options are available. You can import your templates, choose existing design template or use HTML editor.

Enter the necessary information in the fields.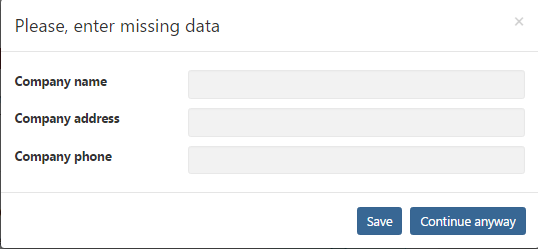 At least, check parameters. Mind that you can choose the appropriate time for sending; you can resend the email to the users that did not open it, changing the subject line and retrieve several indicators in stats. Test the email or start the campaign!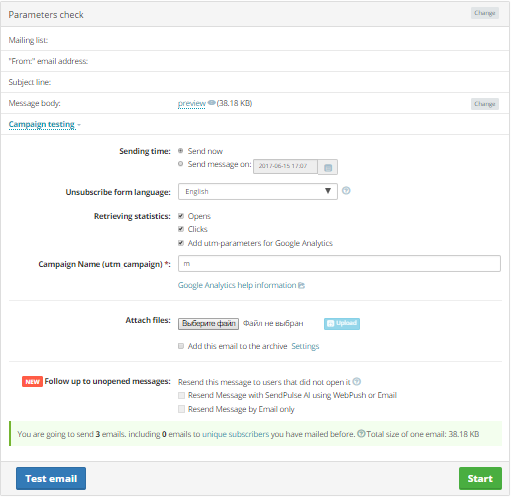 SendPulse gives big opportunities for collecting stats after each email campaign and analyzing the results: open rate and click rate, click chart, geographic stats, stats by device and error statistics.
Besides, you can optimize your campaigns with A/B testing that allows to compare elements of your mailings and use the more effective variants with the highest delivery rates, open rates, and click-throughs. The following elements of your email campaign can be tested: the preheader, the email subject, the sender's data, the calls to action, and their number and location, the location of the text box, the number of photos in the emails, the number of links, the heading settings, such as the font and the size, using animated pictures like GIFs and/or videos.
So, SendPulse is a good choice while goods or services promotion. This service invests in development of unique features. Improve the work of you company with the help of SendPulse!